In the past, families braved the winter cold with fireplaces in the living rooms of their homes. They would gather there to warm up, while enjoying a good hot meal or a nice conversation. Nowadays, families continue with the traditions of yesterday, but are warmed by a much more modern and ecological heating system: biomass heating (pellet or wood burning cookers and boilers).
A biomass boiler is an efficient heating system that not only regulates the temperature in your home, but also has the capacity to produce domestic hot water (DHW). This boiler uses natural fuels as a source of energy, such as wood, bark, wood chips, forest waste or even olive pits or nut shells. It is a cheaper and more environmentally friendly alternative.
Advantages of biomass heating (pellets and wood)
Biomass heating is a heating system that has many advantages. To begin with, it is a highly efficient system. Its energy efficiency is superior to other conventional heating systems, such as natural gas or oil.
It is also much cheaper. If you opt for this system, you will see how your heating bills will be significantly reduced. Although it is true that the installation cost of these heaters is higher than other systems, in the long run it is much more economical, as you will amortise the initial investment in a short period of time. This is partly due to the fact that biomass is sold at stable prices, due to the fact that there is a varied supply and a constant demand.
Furthermore, we cannot forget all the advantages it has for the environment and, consequently, for all of us who live in it. Biomass heating is carbon neutral, which means that it is much more respectful of the planet. As you know, CO2 emissions are the cause of the greenhouse effect and global warming, so it is necessary to look for alternatives like this that do not harm the environment. 
Besides, the biomass sector contributes to generate new local jobs. Each installed MW creates an average of 2.54 jobs that has a positive impact on rural areas, according to the Spanish Institute for Saving and Diversifying Energy (IDAE) (IDAE, 2011).
This heating system is undoubtedly one of the most environmentally friendly. More and more people are opting to install this system in their homes, leaving behind the conventional ones, which are much more polluting and, in the long run, much more expensive.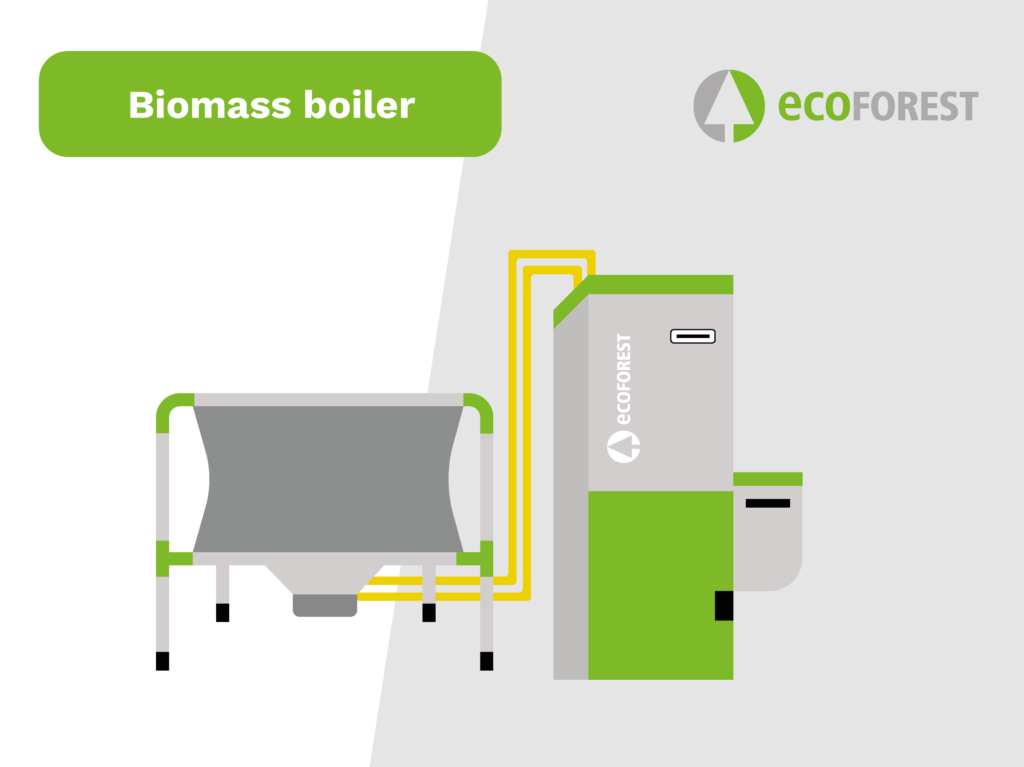 Wood-fired boilers and pellet boilers, an efficient and ecological alternative
One of the most efficient and most economical heating systems are pellet boilers. These machines replace conventional fireplaces, providing a much more efficient and ecological heating service.
At Ecoforest, we have a range of pellet boilers and wood boilers that stand out for their design, quality and functionality. These boilers are easy to clean and maintain. They are also simple to use, you only have to put the load in the tank, so that the fuel generates energy which, through a network of water radiators, will heat your home.
The Ecoforest VAP boiler range offers a wide range of boilers that can be connected to an external silo to ensure a constant pellet input. Power range goes from equipment designed for small to big areas: Vap 5-20, Vap 24, Vap 30 and Vap 100. Besides, those aiming for a simple installation without any external silo the Cantina range meet the needs of small spaces with the Cantina Compact (12 kW), the Cantina Nova, available in 24 kW and 30 kW, and Cantina Super, delivering up to 29 kW.
All our boilers are equipped to offer the best service. They offer a high-performance heating system with high heating power.
With Ecoforest wood heaters, we assure you that it is possible to save while protecting the environment. With them, you can heat single-family homes, commercial premises and administrative buildings in a simple and ecological way. If you are interested in installing any of these boilers, you can contact us through our website.