Ecoforest, a history of technology and innovation
Ecoforest was founded in 1959 by Jose Carlos Alonso; his vision was to develop innovative products that were both economic and environmentally-friendly, with the intention of making the world a better place.
Today, more than 50 years later, Ecoforest is the technological leader in the heating sector, with solutions based solely on clean and natural energy.
Foundation of the company
Founded by Jose Carlos Alonso, looking for a better world
First manufacturer of pellet stoves in Europe
Currently has more than 30 models and international presence
Water heater fired
Ecoforest invented the pellets hydro stovepellets
Ecoforest Heat Pumps
1st ground source heat pump with Copeland Inverter Technology
New Headquarters
With this new headquarters, Ecoforest increases the production more than 300%
Where is Ecoforest?
ECOFOREST HEADQUARTERS
Parque Empresarial Porto do Molle
Rúa das Pontes, 25
36350 Nigrán, Pontevedra, España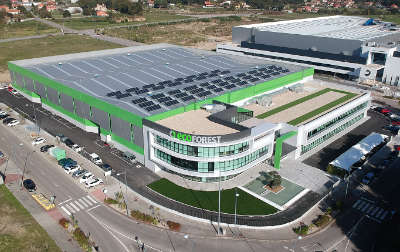 PELLETS FACTORY
Carretera C-402, KM. 94,5
45860 Villacañas
Toledo, España
TECHNICAL ASSISTANCE OFFICES
Pasaxe, 20,
36316 Gondomar
Pontevedra, España