Every year the Galician Industrial Engineers Association (ICOIIG) organizes the Galician Energy Awards in collaboration with the Association of Industrial Engineers of Galicia
These awards are divided into different categories such as propagation, awareness and innovation in matters of renewable energy. Ecoforest presented the unique and innovative energy manager "ecoSMART e-manager", which was awarded with the best innovation project of 2018.
The features of the e-manager combined with Ecoforest heat pumps ecoGEO and ecoAIR are the following:
Possibility to perform a zero balance between production and consumption;
Limitation of the electrical power of all the installation;
Activation of up to 4 non critical loads;
and control of the electrical tariff.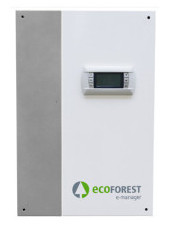 This award distinguishes Ecoforest technology and in particular the ecoSMART e-manager, which since its creation has been recognized both nationally and internationally.
One example of this expansion is its nomination in Sweden to a similar award, renewable energy and HAVAC, the Stora Inneklimatpriset.
The award received by ICOIIG becomes more significant taking into account the jury designated for this. This jury was constituted by illustrious members such as: Oriol Sarmiento Díez, dean of the Illustrious Official College of Industrial Engineers of Galicia (ICOIIG), Julio García Cordonié, secretary of ICOIIG, Francisco Bello Morano, delegate of ICOIIG in A Coruña, Fernando Blanco Silva , delegate of ICOIIG in Santiago, Roberto Carlos González Fernández, delegate of ICOIIG in Vigo, acting as president of the jury Oriol Sarmiento Díez and as secretary Fernando Blanco Silva.
---
Actualization 26/04/2018
The gala took place on the 13th of April 2018 at the Arao Auditorium in Palexco at the Transatlantic Port of La Coruña, where Ecoforest was represented by Iago Bastos, director of the heat pump division and Victor Nóvoa, engineer of the R&D department.
From Ecoforest, we would like to thanks ICOIIG for its works in the promotion of renewable energies. For us only being present at this event is a great honour. This award encourages us to continue to bet on innovation and energy efficiency searching for Ecoforest philosophy, a cleaner and better world.